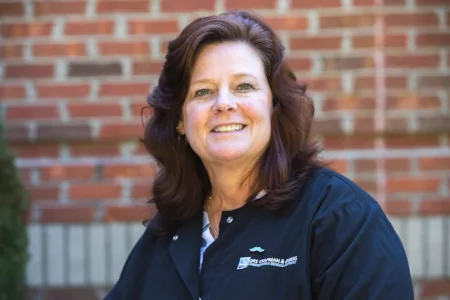 Meet Terri!
Terri Chapman is basically the mortar of the Drs. Chapman & Owens' bricks. Her title is Office Manager, but like most managers that just won't cover it. She's the maintenance, payroll, peacemaker, psychiatrist, IT, mom, comprehensive problem solver Jack-of-All trades.
She is also the practice's longest running temporary employee.
She was born in De Witt, Iowa, but moved to North Carolina before she started school. She grew up in Taylorsville and came to Winston-Salem in 1992. Her background is in business, graduating from Appalachian State University in 1989, with her bachelor's degree in business administration. Then after a brief stint in banking, she went back to school at UNC Chapel Hill to study dental assisting. Graduating in 1991, she learned the business of dentistry from the ground up.
When not keeping Chapman & Owens on even keel, she is master of many needle crafts – including: cross-stich, needle point, crochet, knitting, and quilting. Terri also reads upwards of 30 books each year and is especially fond murder mysteries.
---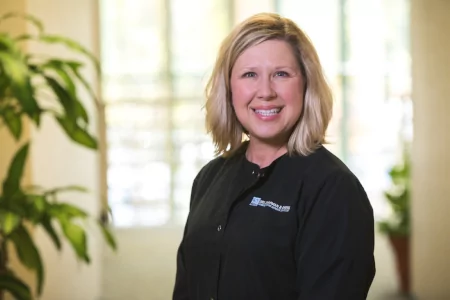 Meet Christy!
Christy is native to Winston-Salem, born and raised, graduating from Parkland High School. She still lives here with husband, Randy, her son Parker and two dogs (a cocker spaniel and a golden retriever). Her daughter, Addie, lives in Hickory. Christy has been a dental assistant since 1992 and worked with Dr. Owens since September of 1996. She has been at Chapman & Owens from our beginning in 1997, when she also earned her Dental Assisting National Board Certification. In her spare time, she enjoys cooking for her family and going on hikes with her children. Her personal time is spent scrapbooking, restoring furniture and she's a beginning seamstress.
---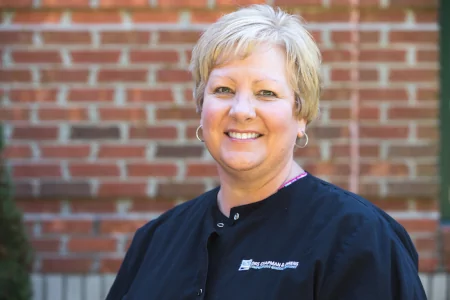 Meet Joy!
Joy Jones was born and grew up in King, NC. She graduated from GTCC in 1991 with her Associate's Degree in Dental Hygiene. After four years working, she went back to school at
UNC Chapel Hill, graduating in 1997 with her Bachelor's Degree in Dental Hygiene, leaving school a rabid Tar Heel fan!
Joy has been with Chapman & Owens since 2011. She jokingly says she was "acquired in the merger" of another dental practice where she worked for the previous 11 years.
Joy is married to Robert and they have a blended family of 4 children: Spencer, Leah, Isabella and Abigail. There is never a dull moment in their house!
Joy loves C&O and being a dental hygienist, but what she cherishes most are the relationships she has formed with the patients, some of which now span almost 20 years! An upbeat and positive person, she can always find the good and her smile and personality always put our patients at ease.
---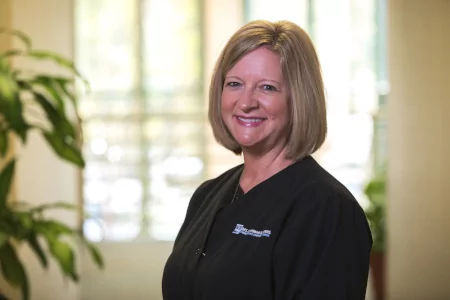 Meet Susan!
Susan Holbrook was born, raised, and still lives in Boonville. She graduated from GTCC with her degree in Dental Assisting in 1989. Though she has been a dental assistant for 33 years, she's only worked two places: Dr. Fred Smith's right after graduation and Drs. Chapman & Owens after Dr. Smith retired in 2011. With many of his folks transferring to C & O, Susan can really boast about knowing some patients for 3 decades. She enjoys building relationships with patients and helping them to feel at ease during their visits.
While Susan is cross-trained, doing both front desk and chairside work, her unique skill at C & O is application of our light-activated Zoom tooth whitening system. She has performed Zoom dozens of times, giving her as much experience as anyone in making brighter smiles!
Susan has two boys Silas (23) and Sterlin (19). She loves spending time with her family and friends as well as just being outdoors: hiking, fishing, and going to the beach.
---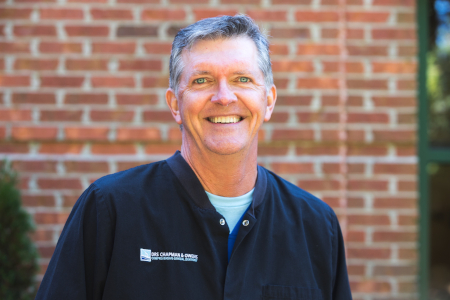 Meet Jim!
Jim was born and raised in Southeast Michigan. He attended Wayne Community College where he obtained his degree in dental hygiene. In 1987 Jim accepted a clinical position with
the department of dentistry at Wake Forest University. It was there that he met and continues a working friendship with both Drs. Chapman and Owens.
Jim has two children; his son Gibson lives in Charlotte with his German Shepherd "Rollins". His daughter Rebecca lives in Winston-Salem with her cat Benjamin!
He has recently obtained the much coveted "empty nester" status! Thus, allowing him more opportunities to pursue, discover and explore a variety of interests such as traveling, hiking, attending concerts, and running.
---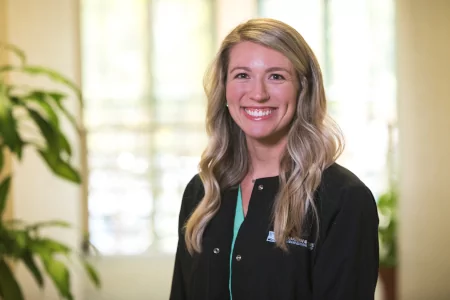 Meet Morgan!
Morgan is the newest employee at C&O. She received her Dental Assisting diploma from Forsyth Technical Community College in July of 2018, and joined our team shortly after in August of 2018. She has truly enjoyed getting to know our patients, and her co-workers have quickly become family.
She was born and raised in Winston Salem, where she, her husband, and their 9 month old son, Walker still reside. They also have two fur babies, Sydney an Australian Shepherd who loves to play Frisbee, and Kimber a German Shepherd who always keeps them on their toes! In her free time Morgan enjoys spending time with her family and friends, traveling, restoring old furniture, being outdoors, and loves cheering on her Carolina Panthers during football season!
---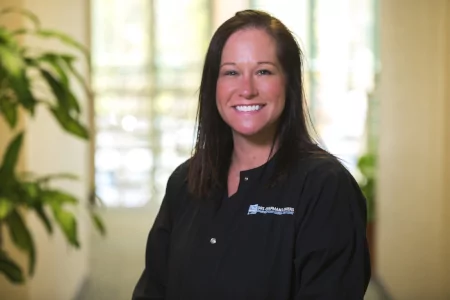 Meet Stacey!
Stacey graduated from the Dental Assisting program at Forsyth Tech in 2006. She excelled in both clinic and classroom, earning the Faculty Award at commencement. She joined the Chapman & Owens team the very next week and never looked back. Over the past 13 years she's strived to build relationships with her patients and co-workers. While she mostly works chairside with Dr. Chapman, she is cross trained as part of the business team and is the "stand in" office manager when Terri is not in the office.
Stacey was born and raised in northern Davidson County. She still lives there today with her husband, Kyle and their two children; a daughter, Bailey (19) and a son, Mason (11). They also have a cat, Salem. In her spare time Stacey enjoys watching her kids play sports, spending time at their family lake house, entertaining friends, and traveling.